Two-Year CPL Portfolio Cycle – NEW

The CPL Portfolio Cycle 2019 is a two-year cycle to ensure RECEs reflect on their practice and plan for, engage in and document professional learning experiences linked to the Code of Ethics and Standards of Practice.
Three Required CPL Portfolio 2019 Components
Self-Assessment Tool
Professional Learning Plan
Record of Professional Learning
Download the CPL Portfolio Components in PDF or Word formats below.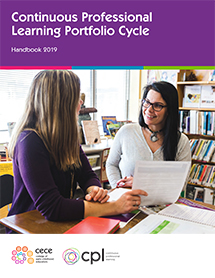 CPL Portfolio Handbook 2019
The CPL Portfolio Cycle Handbook 2019 is an instructional guidebook to help RECEs complete the CPL Portfolio's required components.
A printed copy of the CPL Portfolio Handbook is not required to complete your portfolio process but it can be ordered for $5.00 plus shipping. Simply complete this order form to receive your copy.
Click here for resources to assist in strengthening understanding of the CPL Portfolio 2019 requirements.
Although the CPL Portfolio Handbook 2019 and components reference a two-year cycle, due to the updates to the CPL Program, you should plan your CPL goals and activities for one year only.
If you have questions, please contact cpl@college-ece.ca