Step 2: CPL Portfolio Cycle
The CPL Portfolio Cycle is a two-year professional learning process that members will repeat throughout their careers.
This video will guide you through the process of completing your Continuous Professional Learning Portfolio Cycle.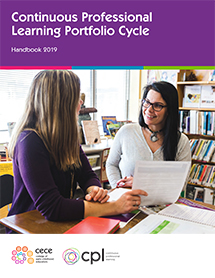 The CPL Portfolio Cycle Handbook is an instructional guidebook to support RECEs in completing the required components of the CPL Portfolio. Members who are starting their CPL Portfolio Cycle for the first time can receive a hardcopy of the Handbook. When it's time to start your first CPL portfolio cycle, you will receive an email communication from the College around your renewal month with an invitation to request a hardcopy of the Handbook to be mailed to you.
A hardcopy of the CPL Portfolio Handbook is not required in order to begin the portfolio process. The Handbook and required portfolio components are available to download on this webpage.
The three required components are:
Self-Assessment Tool
Professional Learning Plan
Record of Professional Learning.
Printed copies of the CPL Portfolio Handbook are available for $5.00 plus shipping. To order copies, please complete this order form.
Important information to read before beginning your CPL portfolio
Working with Fillable PDFs
Note: You MUST save the PDF form to your computer first before completing it electronically, otherwise you could lose your work. Check frequently to ensure your work is saved.
You will require the latest version of Adobe Acrobat Reader to open, save and complete the fillable PDF portfolio components. If you do not have version 11, you can download a free version from Adobe's website at https://get.adobe.com/reader/
Working with Word Documents
Note: Check frequently to ensure your work is saved.
All content is the sole copyright of the College and changes to this document are not allowed without the permission of the College.
Completing your Components
It is highly recommended, but not required, that RECEs refer to the handbook when completing the necessary portfolio components.
CPL Portfolio Cycle: Required Steps