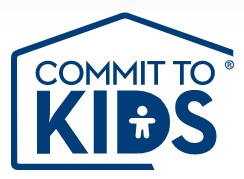 Commit to Kids is a step-by-step online program to help reduce the risk of child sexual abuse. The program's tools provide RECEs with information on the issue of child sexual abuse, including ways to inform and enhance policies and procedures. The program will help RECEs uphold standards that protect children in their care by focusing on healthy interactions among adults and children.

Completing Commit to Kids is estimated to take 3 to 3.5 hours. The program includes 8 modules and knowledge validation test of 20 multiple-choice questions that can be taken as many times as necessary. Optional pre- and post-training surveys are also available to complete. After passing the knowledge validation test, a Certificate of Completion is provided.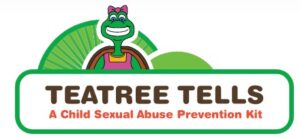 Teatree Tells addresses sexual abuse in relation to younger children 4- to 6-years-old. Teatree Tells focuses on safety skills for preschool children as a foundation to reduce the risk of child sexual abuse. The program includes prevention lessons on topics such as identifying a safe adult, identifying feelings, naming body parts, establishing personal boundaries, and okay/not okay touching. 
Completing Teatree Tells is estimated to take 20 to 30 minutes. The training includes one video to watch and a multiple-choice quiz to complete. After passing the quiz, which can be taken as many times as necessary, a Record of Participation is provided.
College Resources to Review
RECEs are required to review the College resources below. These resources provide information related to child sexual abuse and responsibilities specific to the practice of early childhood education in Ontario.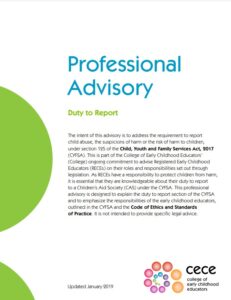 Professional Advisory: Duty to Report
(15-20 minutes)
As RECEs have a responsibility to protect children from harm, it is essential to be knowledgeable about their duty to report child abuse, the suspicions of harm or the risk of harm to children to a Children's Aid Society (CAS) as defined in the Child, Youth and Family Services Act, 2017 (CYFSA). The Professional Advisory explains the duty to report and emphasizes RECEs' responsibilities as outlined in the CYFSA and Code of Ethics and Standards of Practice.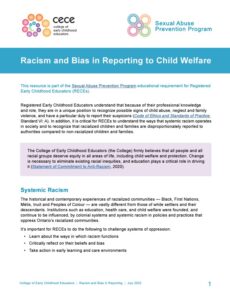 Racism and Bias in Reporting to Child Welfare
(10-15 minutes)
Because of their professional knowledge and role, RECEs are in a unique position to recognize possible signs of child abuse, neglect and family violence. In addition, RECEs have a particular duty to report their suspicions (Code of Ethics and Standards of Practice, Standard VI: A) to the proper authorities. It is critical for RECEs, however, to understand the ways in which systemic racism operates in society and to recognize that racialized children and families are disproportionately reported to authorities compared to their non-racialized peers.
This resource, developed specifically for RECEs, provides insight into bias in reporting to child welfare and highlights the responsibility to reflect on beliefs and biases and their impact.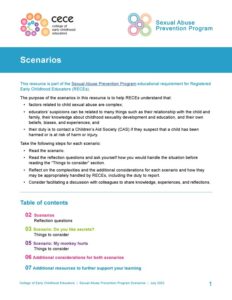 Sexual Abuse Prevention Program Scenarios
(40-50 minutes)
The College has developed this resource that highlights two realistic scenarios with the purpose of helping RECEs understand:
Factors related to child sexual abuse are complex

Educators' suspicions can be related to many things, such as their relationship with the child and family, their knowledge about childhood sexuality development and education, and their own beliefs, biases, and experiences

Their duty is to contact a Children's Aid Society (CAS) if they suspect that a child has been harmed or is at risk of harm or injury
The Scenarios resource, which will be available on the College website in July, provides a step-by-step approach to interacting with two scenarios.