Programs connect seniors and children
By Jann Lee
Meagan Bell RECE is known for her creativity in developing programs for the kindergarten students at Kanata Research Park Family Centre in Ottawa, ON. Whether through planting, taking nature walks or building ice kingdoms, the registered early childhood educator (RECE) finds great satisfaction in watching the children enjoy and build skills from each activity.
One program from this centre brings joy to another group – the seniors who live in Chartwell Kanata Retirement Residence. Children from the child care centre have been meeting with the seniors monthly since 2008.
Bell, who has been involved in intergenerational programming since 2010, attributes its success to the multiple benefits it brings to the children. Although the children's visits only last an hour, the benefits to them are long-lasting.
"For children, it's a great way to build respect and compassion," says Bell. "Seniors act as mentors for them and help build their pre-reading and literacy skills."
Activities vary and include singing, arts and crafts, story time and conversations. Children learn social skills by interacting with people from diverse backgrounds. Reading is a favourite and both groups alternate between choosing and reading books for each other.
"The children are not only listening to others, but they are also being heard themselves," says Bell who reflects on and discusses every visit with the children. "A lot of them comment on how they feel happy that they've been given the chance to read to others."
The positive sentiment is shared by the seniors, many of whom find themselves retracing their roots by interacting with the young. "There was a lady who came out after an activity and especially thanked us," relates Bell. "She used to be a teacher and she said that it's been a while since she's had the chance to read to children."
Bell says these kinds of stories confirm how important it is for centres to continually reflect on their activities and programs. Intergenerational programming began at Kanata Centre after it explored ways that children could make connections with the community.
The Code of Ethics and Standards of Practice is a foundational tool for Bell, who says that she and her colleagues often refer to the standards when they make decisions. "When we're having that kind of conversation, we're always going back to our roots," she says. "We look at how we're connecting our philosophies to our practice."
Standard IV: C.4 of the Code of Ethics and Standards of Practice states that early childhood educators should "access the resources and expertise available in their communities" and that "they strive to facilitate community partnerships for the benefit of children and families." Bell says that standard encompasses the goal of the program.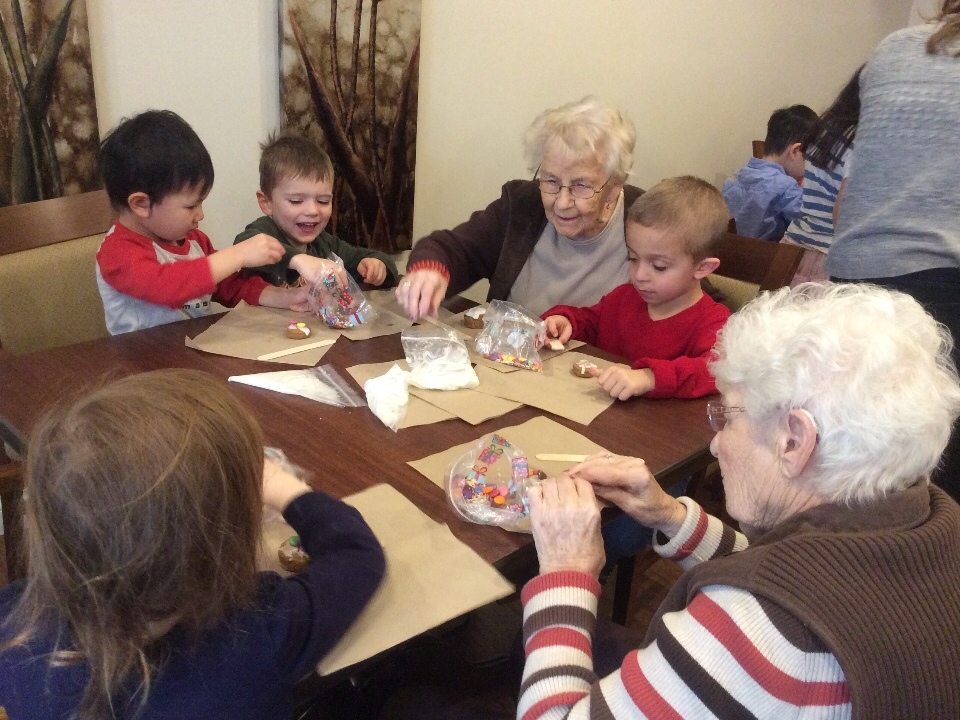 Children from the Kanata Research Park Family Centre in Ottawa regularly visit seniors at a local retirement residence. Activities such as cookie decorating allow children to build on various skills and forms friendships between the participants. Photo Credit: Kanata Research Park Family Centre
Building strong connections is also the reason why A Child's World (ACW) partnered with the Lookout Ridge Senior Residence in the Niagara Region. In 2008, ACW opened a centre within the seniors' residence. These days the children visit the seniors at least once a week to participate in activities that include line dancing, planting flowers, crafts and sing-alongs.
"Seniors and children love to do similar activities, so I find it easy to plan activities they can both engage in," says Shannon Goss RECE, who has been a supervisor at the centre for four years. Like Bell, Goss also thinks the benefits of intergenerational programming are obvious and encourages other RECEs to consider this programming. "It has a huge benefit," says Goss. "It broadens the children's minds – they don't stereotype the elderly and they start to understand the aging process."
Other organizations within the early learning and care sector are recognizing the program's value. The Early Childhood Community Development Centre hopes to encourage centres within the Niagara Region to explore intergenerational programming. It has launched a pilot project, Building Strong Community Connections in Niagara through Seniors and Children, which will support child care programs and seniors residences with ideas, resources and tools to facilitate engagement between children and seniors.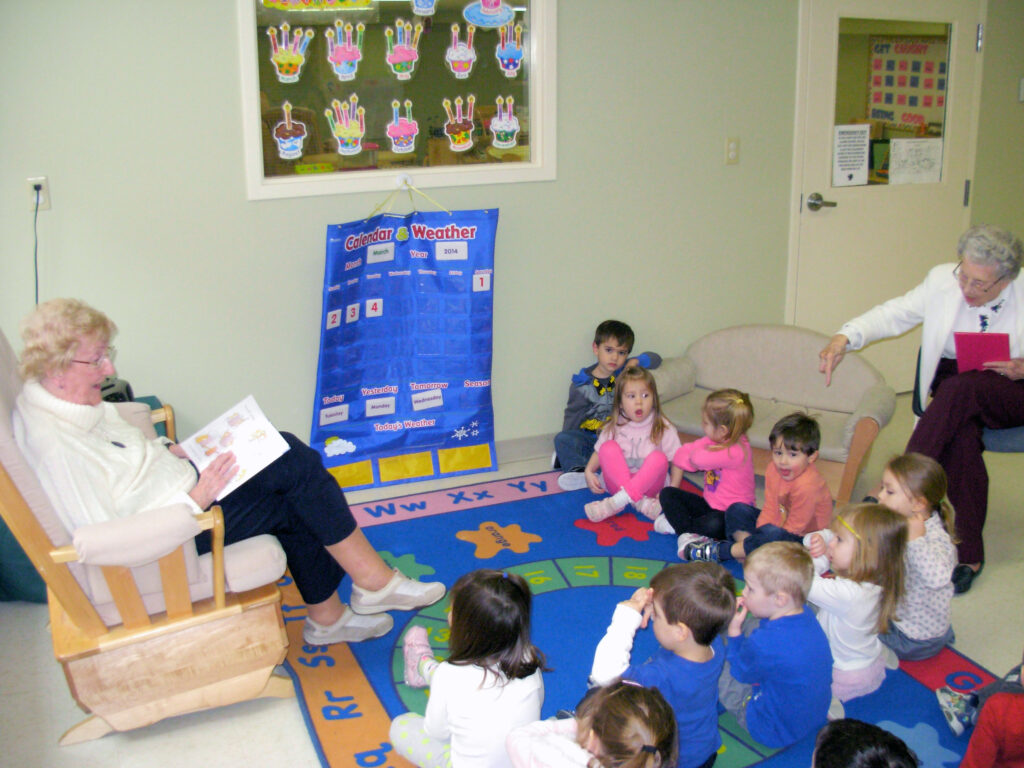 Intergenerational programming unites seniors and children through activities such as reading. At ACW Child Care-Lookout Ridge, seniors share their favourite books from their childhood through story time. Photo Credit: ACW Child Care – Lookout Ridge
For ECEs who want to try intergenerational programming, Bell says that most organizations and families are receptive to having children and seniors interact. Although it requires some work in planning and organizing, the RECE says the benefits are long-lasting, proven by one of her experiences.
"Sometimes, when we visit the seniors' home, parents join us," says Bell. "In one instance, a child's mom attended and was excited to come along. As we walked to the centre, she shared with me that her father had lived at the seniors' home a long time ago. He would have been there when the program first started."
Bell continues, "She told me that he used to tell her stories about how he got excited whenever the children visited and how, looking back, it's really special for her to be able to now go to the same residence with her son."
This article was originally published in the Winter 2015 issue of Connexions. Read the whole issue here.