Bridging the Gaps – A look at the extended day program
By Zakiyya Nazroo
Two years ago, l'École élémentaire publique Michaëlle-Jean in Ottawa, ON introduced a extended day program. The school introduced the program in order to reduce the number of transitions children experience during the day, as well as to facilitate the children's adjustment to kindergarten, according to Marie-Anne Saucier RECE and Early Childhood Services Coordinator for the Conseil des écoles publiques de l'Est de l'Ontario (CEPEO).
Michaëlle-Jean is one of 13 CEPEO schools to offer such a program. The extended day program complements Ontario's full-day kindergarten program (FDK) launched in 2010. An extended day program means that a school offers child care before and after school. The program is led by a team of two registered early childhood educators (RECEs) and designed to provide continuity in learning and a coherent day for children, including those with special needs.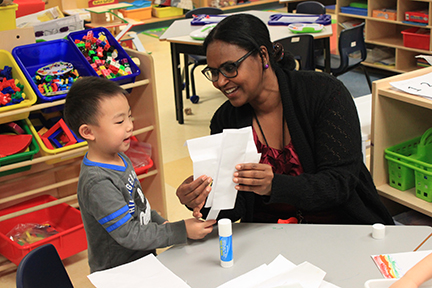 With fewer transitions and fewer educators to adjust to during the day, children enjoy a more stable environment and build solid relationships of trust
with the pedagogical team. Activities are no longer interrupted by the departure of the first educator and can continue after the arrival of the second educator.
"Each RECE looks at what the RECE before her wrote down and proceeds from there. For the children, it's like having a single ECE from 7 a.m. to 5:45 p.m.," explained Deka Abdillahi, an RECE and team leader at the school.
In addition to improved staff retention, the extended day program has facilitated the integration of ECEs into the school team and has enhanced the school board's profile.
"Because we work with the teacher, we are part of the professional team," explained Abdillahi.
This arrangement facilitates cooperation between members of the pedagogical teams by allowing them to take the time they need to plan their work together.
RECEs have more opportunities to apply their knowledge and skills in the areas of early learning and development. This integration enables them to
take greater advantage of the continuing education programs provided by the CEPEO in order to enrich their knowledge and skills. In her role, Abdillahi supports educators in their efforts to implement the program and assists them with programming as well.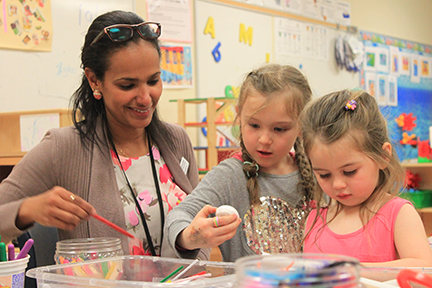 The extended day program also promotes communication between parents and educators.
"Parents can find out about their children's day," explained Abdillahi. "There's always someone there to answer their questions."
She also notes that parents are playing a more active role. The school provides opportunities for parents to get involved in their children's
education, for example by coming in to talk to the children about the jobs they do or by taking part in Grandparents Day.
"The parents are very involved," said Abdillahi "They provide regular feedback on our activities. They also help out."
This involvement is also reflected within the school's administration staff, whose members have an open-minded attitude and are good listeners, said
Abdillahi. Each month the vice-principal attends the meetings of the early childhood team. Abdillahi and the principal also meet on a regular basis.
According to Marie-Anne Saucier RECE, there are ongoing efforts to strengthen the professional relationships among the early childhood teams.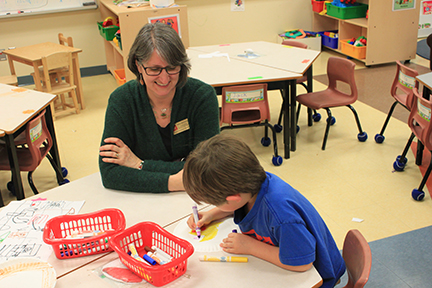 "There is more communication, more understanding and more sharing," confirmed Abdillahi.